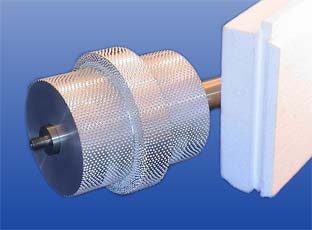 The efficient processing of insulation plates requires high-quality tools with optimized teeth geometries.
Our tools receive the optimum rasp teething for each application case.
This way high surface qualities can be reached with high cutting speed.
Depending on the processed material the cutter body will be aluminium for optimized weight conditions or tooling steel to process extremely hard material.
Various applications require adjusted profiles, such as tongue-groove profiles or stepped profiles.
For each of these requirements we provide the adjusted tool set.
Single part as well as multi-part tools are available where the multi-part tools can be combined in different ways to create various geometries with just one tool set.
Ask for your customized offer.