Milling Cutter with rasp toothing developed for special application in the fields of medical equipment and orthopedics.
Suitable for processing and finishing of all orthopedic materials.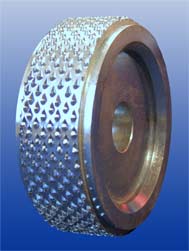 The fine rasp toothing provides high-grade surface qualities and high dimension accuracy. Top quality material ensures long tool life.
Universal shapes for hand milling tools as well as specific geometries for use in machines available.
Manufactured as per customer specifications.