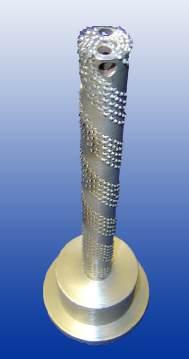 High performance milling cutter with rasp toothing and shavings extraction through cutter inside.
For processing of styrofoam, foamed and expanded plastics, e.g. EPS, XPS, PU, PE, PPE PUR.
For use in portal milling machines, CNC machines, etc.
The shavings can be extracted directly through the tool.
Cutting tops are exchangeable and available in various geometries.
Manufactured as per customer specifications.